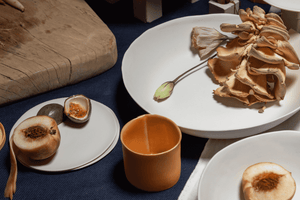 Explore the boundless possibilities of hand-building in the intimate setting of Oxum NYC private artist studio in Greenpoint, Brooklyn. All you need to get started are the Clay, your hands, and a few tools. Hand building dates back 28,000 BCE and remains the most versatile way to create functional and sculptural work.
I will demonstrate the three main techniques and forming methods: pinching, coiling, and slab building. Once familiar with these techniques, you will be able to make almost anything from Clay.
 Included:
Three hours of class a week for five weeks and 3 hours of table time/per week, either after class or Sundays

25 Lbs. of white stoneware.

X1 set of essential tools

X1 towel

The objects you create. 

House Glazes: Glossy Clear, Matte Clear, or Matte Black
Participants should bring their aprons to each class. 
Firing is an additional cost of 10 cents/cubic inch, covering both bisque and glaze firings. 
Number of potters: 6 max 
Cancelation Policy: 
Makeup: Classes can be made up within the session if you have given notice and the studio is available.
Cancellation Policy: $95 is non-refundable. The balance will be refunded for cancellation made in writing no later than eight days before the session starts. No refund is available after that.
How to estimate your firing cost:
If you would like to estimate your firing cost, you should multiply LxWxH=Cubic inch.
(Please note there is a 2″ minimum for height, and measurements should be made on 1/4″ increment.)
Then multiply the cubic inch amount by 0.10 cents to get your dollar amount.
Kiln Rental and Loading fee:
You may rent one of our kilns if you have many or large pieces to fire. Prices are for any Cone up to Cone 6 and a standard firing cycle. The loading fee is $20-$50, depending on the kiln size and how many pieces are being loaded.
Kiln #1: 22 W x 22.5 - 

$150

Kiln #2: 19W x 19 L - $70
The prices indicated are for standard fast-firing cycles. Any firings with special requirements, such as ramp/ hold, are subject to additional fees. Glaze-firing greenware is prohibited. Pieces must have been bisque-fired before glaze firing. Oxum NYC will not be held responsible for a piece cracking, breaking, blistering, exploding, or any other unsatisfactory result.
What to bring:
An apron 

A plastic container or pouch to hold your tools 

A small quick dry towel that can be stored in your apron pocket (optional)

X1 clear plastic bag
This is a beginners class. No experience necessary.